Definition:
Remote working is a type of work which allows individuals to work outside of a traditional office environment; this term is based on the concept that work does not need to be done in a particular place or location, to be performed successfully.
Modern technologies have made working outside of the office a much easier reality. Work teams distributed around the country (or around the world) offer the organization a lot of flexibility in finding the best new hires and to find top talent.
How does it work?
Remote work requires a combination of technology, the right culture and process which are inclined specifically around facilitating virtual teams to successfully work from anywhere in the world. For remote working to be successful, there must be an assumption that the individual or the team will work off - site as a norm. 
Whilst there is not a direct blueprint strategy on successfully working remotely, a successful remote workforce have the following factors in common:
A healthy culture: virtual teams that have a high performance usually have the culture of teamwork and trust, they are often focused on results rather than hours spent in the office. A culture that also includes a supportive management which believes in the remote approach and enables teams and individuals to be successful with this style of work. 
Strong and reliable connectivity: virtual teams rely heavily on mobile technologies and fast internet that can support intensive use.
Collaboration and communication tools: virtual teams must be able to work as if they are located in the same location. Which means that platforms for technologies such as video conferencing, chat, remote desktops, file sharing and other business needs. 
Even though there is no right way to work remotely, there are some general best practises to create the conditions for success to work virtually as a team. This includes the following:
High quality technologies: Organizations with high performing virtual teams, invest on technologies or systems which their teams rely on to do their jobs, which include mobile devices, remote desktop, easy to use and reliable applications and high speed broadband.
Clear policies and guidelines: A culture of trust is built when expectations have been made clear; this develops a healthy understanding. Is the employee expected to be online at a particular time? Which applications and devices are allowed for business use? How is high performance measured?. Setting up policies with the above factors in mind, will create a productive and build a healthy virtual workforce. 
Team Building: A remote team is still a team; managers have the responsibility to build a collaborative and collaborative team that is invested in each other's success. A team building activity could include meeting up in person for a coffee (if possible), or have an online team bonding time with a paid voucher for a drink or a meal.
       Advantages of remote working
The reduced need of a corporate office space: Organizations with a remote workforce saves themselves the financial stress of rent or leasing a corporate office space; this saves them long - term flexibility, and rather helps to invest in more effective systems to help make remote working smooth for employees.
Enhanced business continuity: Remote teams are usually adaptable because they do not need to be in the same location, particularly if the employee has opted to work in their home office. This means that the employee regains time in their life each week; which can benefit the organization, especially in an emergency the employee will still be able to work and the employer would not lose out, with having an employee absence if on site.
Reduced and decreased commute times: Remote employees spend less time travelling to and from their work location. This will help the employee time and money, rather than it would if they were to commute to work.
Disadvantages of remote working
Mistrust and micromanagement: having a remote team can develop a lack of trust, as some employers who have virtual teams, micromanage their employees, which in the end causes the employee to feel anxious and this will cause the employee to perform well in their role.
Unreliable technology: inadequate tools and technologies can cause an employee to be unproductive.
With the recent technologies and systems, remote working is believed to be the way forward, and the future of the workforce. It is however important that employers take into consideration the necessary tools, systems and policies in order to successfully have a remote team.
Use in a sentence:
The practice of remote working has become popular.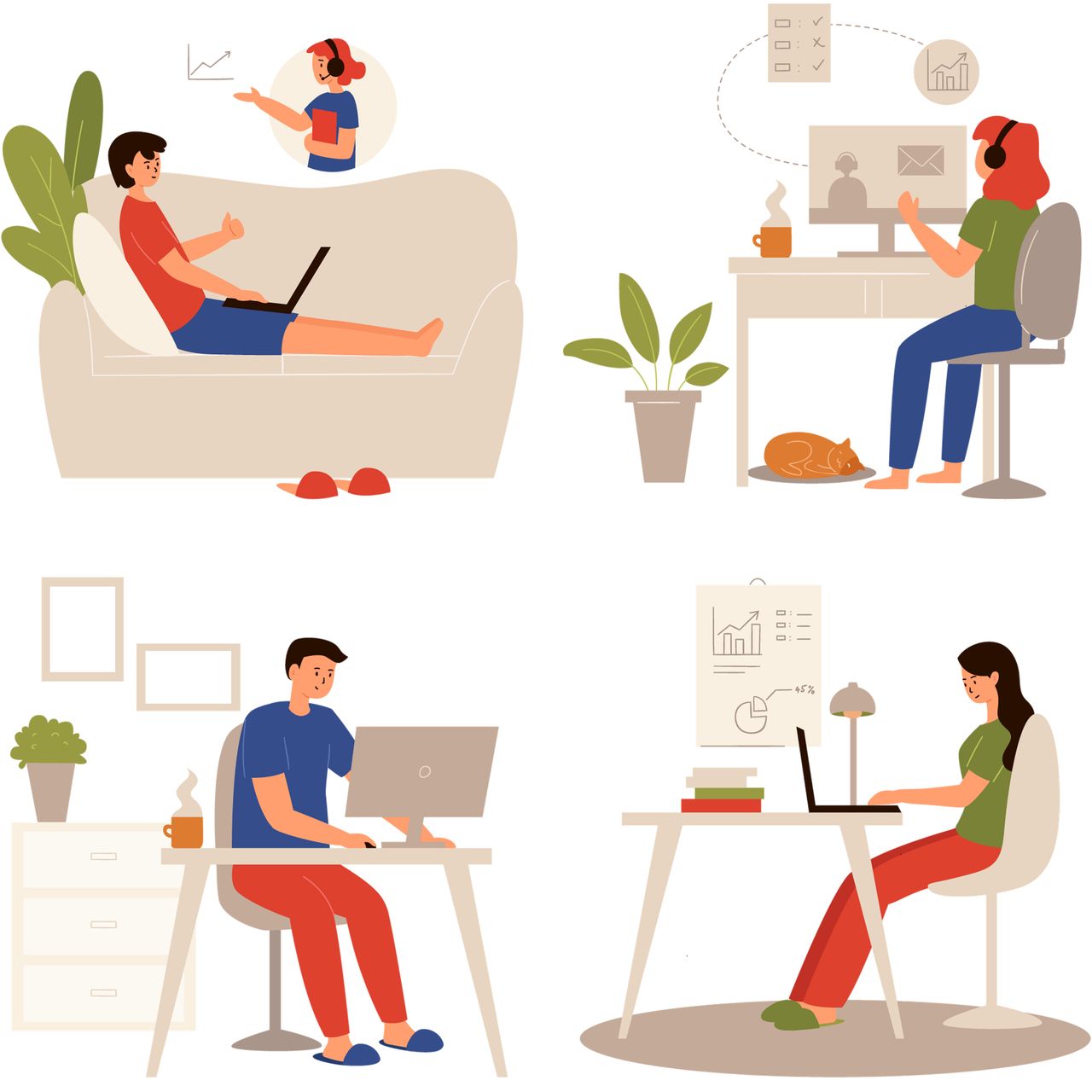 Get the Term of the Day in your inbox