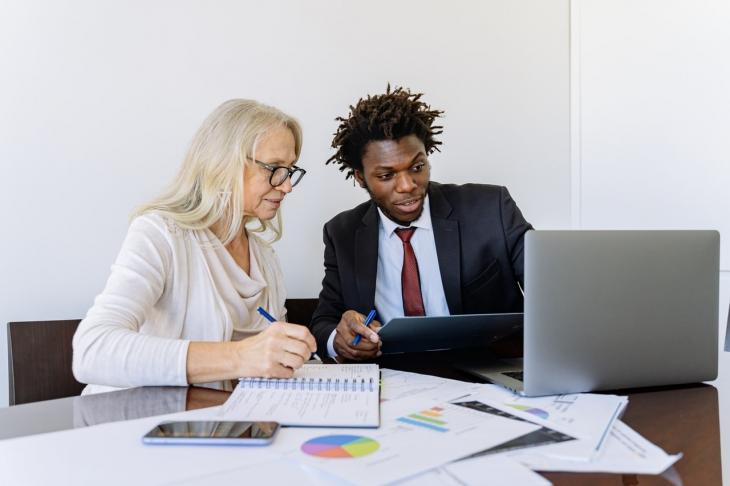 Non-monetary compensation provided to employees of an organization are often called benefits and can include a wide variety of different aspects. There are many choices in the arena of benefits that could be offered to an employee, but each company often has a different set of those many options that it chooses to provide. Depending on your tenure with the company and your level of seniority, those benefits may even change. But, there are a few that stay the same across industries and regardless of your place in the hierarchy.
Let's take a look, first, at the most common benefits you will encounter and what they might look like in your employee benefits package. 
Health Insurance
Many companies, due to healthcare reform, are required to either offer some form of health insurance or pay a per-employee fee to the federal government. For those companies that do offer health insurance to their employees the most common two options are HMOs or PPOs. HMO plans typically have lower monthly costs (premiums) and PPOs typically have higher monthly costs, but are often less strict or controlling when it comes to which providers you are able to see.
Within the realm of health insurance, your company will likely offer some sort of dental and vision coverage as well. You may have options for these offerings too. Your monthly contribution for these is generally much lower, but preventative care, especially with dental care, can normally be paid for by your health insurance as a healthy mouth usually makes for a healthy body.
Disability Insurance
Disability insurance comes in two different forms and is sometimes covered in cost by the employer. Short-term disability is meant to cover an individual immediately following an emergency, but won't usually be enough to maintain financial stability over a long period or as a replacement to one's normal income. Long-term disability covers much more, for a longer period of time (sometimes up to retirement depending on your plan), and can be more helpful at maintaining one's financial independence.
Paid Leave
Paid leave can be offered in one of a myriad of forms to employees as well. We commonly see these options offered in a company's benefits package: paid sick leave that would cover days that an employee was not well enough to physically come to the workplace, annual leave benefits could be offered as a fixed number of paid time off from work starting after eligibility begins or could be accrued after a set number of hours of service, paid family leave should an employee need to care for a family member or loved one, unpaid leave where an employee does not have to be separated from the company, childbirth or adoption leave to be off work to focus on the new addition to one's family, etc.
Within the options for paid leave, most companies also offer paid holidays to their employees - sometimes there are restrictions that determine which employees are actually eligible for different kinds of paid leave. 
Employee Assistance Programs
As the world changes and companies take greater responsibility in the wellbeing of their staff and employees, many companies are now offering employee assistance programs to their employees in hopes that employees can and will take care of their mental health if or when they may need the assistance. Some companies offer much more than mental health programs through their Employee Assistance Programs, so be sure to check out the EAP offered at your work.
Life Insurance
Many companies now offer life insurance to their employees free of charge. This life insurance does not often get used immediately or while an employee is still working for the same employer, but it does add to an employer's benefits package's attractiveness to new or potential employees.
Accidental Death and Dismemberment Insurance
Mostly covered by the employer this insurance covers exactly what you would think it does.
Wellness programs
In today's ever changing climate and social landscape, one's health and wellness have taken center stage. Employers who want to attract  younger generations of employees and thought makers know that emphasizing the importance of an employee's overall health by offering wellness programs, not just their work performance is how you're going to attract the right candidates and to keep the ones they already have.
Work-Life Balance
Today's newest generations have pushed and pushed for years to force companies to better respect and highlight the need for a health work-life balance. As managers and employers, we must understand that our employees have full, vibrant lives when they clock out of work at the end of their shifts. We must encourage them to have a healthy balance of work and life time to make sure they know we appreciate them for what they do at work, but even more so because we know they are also human
Work-life balance initiatives or programs can take many forms. Some employers choose to offer a variety of work options like full-time in-office work versus fully remote options or, the ever more popular option, is a hybrid version of both where employees can distribute their time between home and office for their convenience. Throughout the COVID-19 pandemic we have seen many companies move towards this last option and have seen productivity actually increase versus the thought before that employees who did not work in the office or workspace would be less productive due to distraction or what have you.
Retirement Benefits
You will surely have heard of a 401k and maybe even the 403b options for retirement insurance. Another popular retirement insurance option is Social Security. You pay in to Social Security regardless of where you work, but most people only have a 401k option if they are working for a for-profit firm. Different companies will offer different contribution schedules for each, so to get full details you would need to speak with your specific Human Resources representative to understand your employer's offerings.
Some extra, but pretty neat benefits are coming to light in today's changing market as well, but are still not entirely commonplace for all. These include options like:
Tuition reimbursement where an employer may reimbursement part of or the entirety of the costs accrued for attending a college or university 

Discounts on many different items and activities like new vehicles, hotel and car rental, amusement park tickets, etc

Legal services costs where your employer offers options based on a monthly cost

Adoption or fertility assistance for those wishing to grow their families

Options for discounts at certain grocers or retailers based on relationships between your employer and the other company